Archive for
August, 2010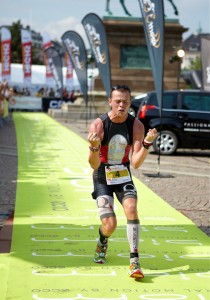 Now that I have had a few days to wind down and take in everything from my race week at Copenhagen, I thought I would share with you my race report.
I drove to Copenhagen on Thursday morning to be at the press conference for Challenge Copenhagen. After that it was time for a massage and physio, so I could be ready for the race on Sunday. As usual the last two days involved very light training and a lot of relaxing and eating!
Like so often, the Danish summer was not too warm and a lot of rain. On Saturday I managed to check in my bike before the heavy rain storm began. With all the rain, I prepared myself that the course was going to wet one and the chance of punches was a lot greater.
On Sunday morning I woke up feeling great and ready to race
During the swim, I positioned myself in the second pack and was happy with this as I did not want to push it too hard. I came out of the water with the second group and found myself in 13th position. I was pretty satisfied being in this position because I know I was sitting with the right guys.
With the wet roads the famous Danish Flinstones became a major factor in the race, which saw me have my first flat tyre at the 15km mark. As I had to stop and change my tyre, it caused me loose the group. Back on the bike and after another 10km I got passed by my coach Michael Kruger and I decided to follow his pace and try to catch back up to the group.
More >
Since the ITU World Champs, I returned to Denmark and back to parents home in Jutland. I wanted to get away from Copenhagen for a few days to relax. Being on my own helps me to prepare for big races.
My last hard session before Challenge Copenhagen was on Wednesday where I competed in the Tistrup Mini-Tri. It consisted of 250m run through water, 20km bike and 3km run. More >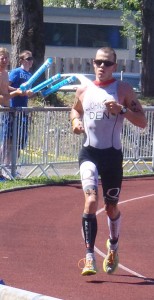 I have been back in Denmark for a few days now and have had the time to think about my race at the ITU world champs. The race was on Sunday 1st August and held in Immenstadt in Germany.
Leading up to race day we had a chance to go for a training ride on the bike course. We knew before we got there that the bike course was very hilly and after the ride on Wednesday, it was confirmed that to win the world champs you would need to have a very good day on the bike. More >