Archive for
January, 2011

I got my 2011 season started with a long-distance event in the beautiful Wanaka located in southern New Zealand. We (Aimee and I) arrived early on Monday where there was a direct flight between Melbourne and Queenstown (1 ½ hours drive from Wanaka). The rest of Monday was spent unpacking, shopped and cooking food.
On Tuesday and Wednesday I did some light training in all 3 disciplices. I was really happy that the water temperature was 17.5 and the bike course was not as hilly as expected.
Thursday was a training free day, but I had a few other things on the program; starting the day with a radio interview with Live Sport New Zealand. Then it was off to the race breifing, press conference, massage, sponsor commitments and then the last thing was the Pasta Party with a little interview up on the stage.
Friday I did light training and a little sponsor work, and checked my bike into T1 in the afternoon, an early dinner and headed to bed before 8pm.
Saturday morning I woke up as usual with lots of nerves. Victoria (our race director) picked us up nice and early and after getting my bike ready I had plenty of time for warm up.
It was clear even before starting that it was going to be a very long, hard day. As the wind was coming from the north west it meant that the last 70km on the bike would be into a headwind – I was not looking forward to this!
Back to my swimming; I had a very good start and was sitting with the second group on both laps although there was quite alot waves coming at us from all angles. I was out of the water 2min from the front, but was with those that you would've expected to finish in the top three so I was pretty happy.
More >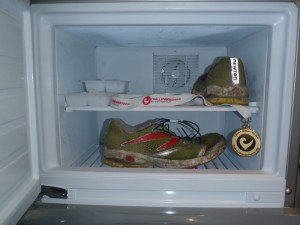 Så fik jeg skud 2011 sæsonen i gang, med en lille lang distance event i det smukke Wanaka der ligger i det sydlige New Zealand. Vi (Aimee og jeg) ankom allerede om mandagen, da der var en direkte fly mellem Melbourne og Qeentown (1½ time kørsel fra Wanaka). Resten af mandagen gik med at pakke ud, købt ind og lavet mad.
Tirsdag og Onsdag gik med let træning i alle 3 ting, det var glædelige at vandet temperaturen var 17,5 og at cykelruten ikke var så meget så kuperet som forventet.
Torsdag var trænings fri dag, dog havde jeg en del andre ting på programmet, startede dagen med en radio interview til Live Sport New Zealand, derefter stod det på race brifing, presse møde, massage retsgering, sponsor pleje og dagens sidste ting var pasta party med en lille pep talk oppe på senenen.
Fredag let træning og lidt sponsor arbejde inden cyklen blev stillet i T1 om eftermiddagen, en tidlige aftensmad og på hoved i seng før kl.20.00.
Lørdag morgen var ligesom det plejer med nerverne uden på tøjet. Men fik gjort min cykel klar og havde god tid til opvarmning.
Det stod klar allerede inden start, at det ville blive en meget lang og hård dag. Da vinden kom fra nord vest hvilket betød at de sidste 70km på cykel ville blive i modvind.
Tilbage til svømning, havde en meget god start og kom fint med i anden gruppe på begge omgange selvom der var godt med bølger hele vejen rundt. Var ude af vandet 2min fra front, men var sammen med dem som man forventet ville slutte i top 3.
På cykling sad jeg sammen med Keegan Williams, Richard Thompson og Bevan McKinnon, som kørte rigtigt hårdt de første 40km. inden farten faldt en lille smule, jeg var helt sikker på at de havde glemt at der var 70km modvind til sidst.
Ved 50km tabte jeg min kæde både foran og bagpå. Hvilket betød at jeg tabte 2min til den gruppe jeg sad i. Men med 120km var jeg ret sikker på at jeg nok skulle komme op til dem igen og gerne inden modvind stykket.
More >