Archive for
June, 2011

Aimee has done it again! Getting me an important sponsorship mid-season!
I am thrilled to announce that I have recently signed in with Continental Tires.
I have been riding them for the last couple of months and not only have I been puncture free but having confidence in my tires again has been fantastic.
Anyone who has been following my racing over the last year, will know I have had a horror run with punctures. All starting with Challenge Copenhagen last year where I suffered 3 flats on the bike course. I should explain that it was a nightmare day for most athletes with torrential rain the night before causing a LOT of punctures.
But my bad luck continued and it felt like nearly every race I had a puncture; well half my races!!
Early in this season I decided I needed to change things up and am so thankful to Continental getting on board mid-season. I have long been a fan of their products – who isn't a fan?!
Very excited to be teaming up with the leaders in the field and I look forward to working with them for many seasons to come!

Sorry for the delay in posting this race report but after my race in Weihai, Aimee and I spent a couple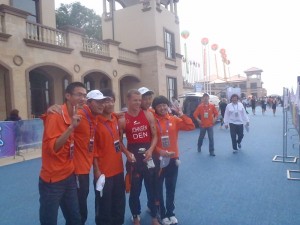 of days in Beijing seeing the world outside tri.
I was looking forward to going to Weihai this year, as defending Champion it was always going to be a great experience no matter the result.
Being the defending Champion meant there was a lot of media interest in the lead up and I spent a bit of time doing interviews.
I knew they had changed the bike course from last year to include more hills and make it a 4 lap not 2 lap course. I had heard that is was quite challenging so I thought best to have a ride on it before race day. It was definitely much more hilly but was ready for the test.
On race day, we got shuttled from our hotel to transition nice and early which gave me lots of time to warm up and get ready. In Weihai us athletes are treated like rock stars with lots of photo and autograph requests. 20 minutes before race start I was still signing autographs which was pretty cool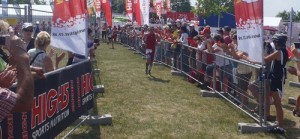 The last few weeks have involved a lot of driving, and last weekend was no different. Another 1000km+ road trip to Challenge Kriachgau in Germany. We left on Wednesday afternoon, had an overnight stop in Hamburg and arrived mid afternoon in Kraichgau on Thursday.
Challenge organisers put us up in an amazing hotel which was perfect after a long day driving! It was also close to the finish line which makes getting around so easy.
The weather in Germany was nice and hot, much like Austria 2 weeks ago so I was very much looking forward to a hot race day!
On Friday night we were treated to VIP drinks and dinner. This is always nice before a race to get out of the hotel and meet up some of the other pro athletes, organisers and event sponsors.
More >