Archive for
December, 2011


It has long been on my priority list to get on board Argon 18 and Christmas has definitely come early this year. I am so excited to announce that in 2012 I will be officially riding with Argon 18 and on one of the newest most exciting bikes the E-118.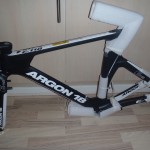 One of the inspirations behind my desire to ride with Argon18 came from my fellow Dane and former National Team mate Torbjørn Sindballe. He was one of the first people to think about developing tri specific bikes. His influence is part of the reason triathletes like myself, have such amazing bikes to ride.
The new E-118 has enormous customisation options, so I am sure I will be able to get an even better position on the bike next year. I now have another weapon in my artillery and excited to getting on course.
For short distance races and training I will be riding Argon18's flagship road bike the Gallium Pro.
I am looking forward to working with the team at Argon18 for 2012 and beyond.
A big thank you to Jeff, Peter in Denmark and Frank in Australia for making it happen so fast!