Archive for
January, 2012

It's nice to have my first race of the year under the belt already and even nicer that I got a decent result. Considering the preparation and training in the lead up, I am very happy to come away with a 5th placing.
In the last few months there has been some major changes in my setup and unlike most previous years, I spent November and December in Denmark attempting to train in the dark winter conditions which meant I wasn't completely sure how things would go. I also had my first few rides on my new Argon 18 E-118 bike which always takes some time to adjust. More >

Challenge Wanaka 2012:
Så kom jeg igennem års første stævne, som endte med et godkendt resultat, hvis man kigge på optakten til stævnet. Da de sidste par måneder i 2011 stod på en større ændring i min opsætning omkring triathlon. Og med at vi ankom til Australien i slutning af december med en helt ny cykel gjorde det hellere ikke bedre.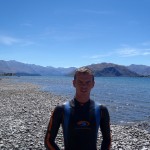 Fik dog nogle gode trænings uger ind i varmen inden vi tog til Wanaka, hvor vi var så heldig at Leigh fra EdgeWater og Challenge Wanaka havde stille et værelse tilrådighed for os. Så race ugen var i helt topklasse, med under 100m ned til Lake Wanaka, blev svømning og løbetræning ikke nemmere. More >