Archive for
December, 2012
PRESS RELEASE
CEEPO and 2 x Ironman Champion Jimmy Johnsen have signed an agreement that will see Jimmy ride CEEPO in 2013

"I am very excited to have signed with CEEPO for 2013. I have long been a fan of their bikes so it's a big honour to be officially working with them and getting the opportunity to ride their speed machines."

Tanaka as Joe as most know him, the owner of CEEPO is equally excited about Jimmy's future prospects in Ironman.
"I believe that Jimmy hasn't yet reached his full potential and the best will come soon & riding the new Viper will help him will help him reach his goal for the 2013 season"
Jimmy has had an exceptional career to date, winning 2 Ironman titles as well as 3 half Ironman titles. In 2012 Jimmy had a podium finish at Ironman Cairns & Challenge Copenhagen and recently won Ironman Western Australia.
As the official bike sponsor of Ironman, our goal is to find and support athletes that have the potential to aim at a world champion title.
In 2013 Jimmy will be focussed on qualifying for the Ironman 70.3 World Championships in Las Vegas and then Ironman World Championships in Kona Hawaii. Already ranked 9th on the rankings, Jimmy is well on his way to achieving his goal. Having been to Kona twice before Jimmy knows what it takes to succeed on the island and is ready to make his mark.
"I'm really looking forward to representing Ceepo as I take on both the world championships in 2013"
Jimmy weapons of choice are Ceepo Viper & Ceepo Mamba 
Follow Jimmy at www.jimmyjohnsen.com
Facebook: www.facebook.com/JimmyJohnsenTri
Twitter: https://twitter.com/jimmy_johnsen
70.3 world Championships Las Vegas
,
bike sponsor
,
Ceepo
,
ceepo bikes
,
Ceepo Mamba
,
Ceepo Viper
,
Challenge Copenhagen
,
facebook
,
Hawaii 2013
,
ironman
,
ironman champion
,
Ironman western Australia 2012
,
Jimmy Johnsen
,
KMD Challenge Copenhagen
,
kona 2013
,
Las Vegas
,
podium finish
,
sponsor
,
triathlon
,
Twitter
,
www.jimmyjohnsen.com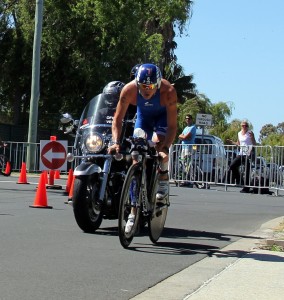 It is always special to go into an Ironman no matter what the build up, but at the end of the day it nothing else matters except how you feel on race day. I felt I had recovered really well from Ironman Cozumel which was only two weeks ago. I knew this race could go either way, but based on my history of backing up pretty well, I was confident it could go really well.
At the start of the week I made sure I got all the right treatment and arriving late Thursday afternoon in Busselton gave me time at home to recover and prepare right. I am quite familiar with the area having raced Ironman Western Australia three times before so coming later in the week was fine.
Race Day
SWIM
We had an early start with a 5.30am swim start but coming from the east coast of Australia with a three hour time difference, getting up so early wasn't that tough.
We had a beach start & when the gun went off, I had a great start and got on the feet of Horst Reichel but only managed to stay there for 500m. I led the chase pack out around the jetty before I settled into second spot to try and save some energy.
I had a great transition and came out on to the bike course in second place with a group including Timo Bracht, Josh Rix and Matty White.