Archive for
March, 2013

I came into this race with a long build up where all my life existed of was training, eating & sleeping in my Hypoxico Altitude Tent. I know from past experiences that altitude training works well for me special on my run form, so it was a simple choice to spend the 8 weeks prep sleeping in the tent.
With Ironman Melbourne being a championship race it was always going to bring some of the best athletes in the world, so for me it was a good test to see where I'm standing. It is well known that not everyone is at 100% because it is at the start of the year & I was one of them.
The last few days before the race I was not as nervous as I normally am, maybe because I could sleep in my own bed & I did not have to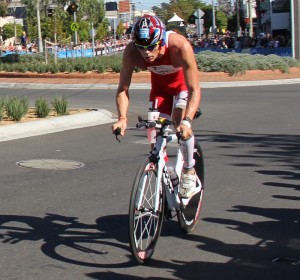 go and eat out.
There was a bit of panic at the end of the week when I got a bit stiff in my lower back. I was lucky to get into a see a physio on Saturday morning & he did save my race for sure.
With Melbourne weather it does change a fair bit, it is known for having 4 seasons in a day. I was prepared for anything and on Saturday at race briefing the organisation advised us the swim had been changed to a two lap swim & did also have a backup plan if the winds didn't drop that we would still have a swim but a shortened one. All athletes were aware this could be a possibility, but that is racing.
I did a test swim Saturday afternoon to get an idea of how bad it was which went ok but was definately rough. Waking up race day to howling winds I was sure we'd have have a shortened swim and just after my warm up we got told that the swim was cut down to 1.9km. & a delayed start. I took my chance to a small nap!!
But like Marino Vanhoenacker did say at least we did get a swim, it's not ideal to swim 1.9 but it was the right call. I think all athletes after the race agreed on that.
I did not have the best swim start, but did stay in contact with the 2nd group the whole swim, even though it was very rough. I came out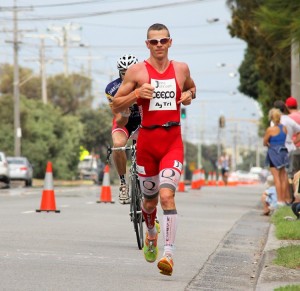 onto the bike with the group, but as soon as Cameron Brown, Joe Gambles & Marino hit the front, the group started splitting up. Thanks to the massive headwind I was only doing 30-35km/h, but quickly found my own pace; With a two lap course there would still be 45km into headwind on second lap as well so didn't want to be on empty for that. We did have a good tailwind back which was a great relief and I was able to sit on 47-58km/h the way back into Frankston.
At the start of the second lap quite a few athletes start dropping out because they had gone out too hard out, so I just tried to limit my loss to the front and prepare for a big run.
When I hit the run I was in 17th place, well down on where I had hoped for, but with 42.2km's in side/headwind I knew a lot could happen and the weaker runners would be found out. Leon Griffin & I did work well together on the start of the run and were sitting on 3:50-4:00 pace, so it was just a matter of time before we would start to catch athletes up in front. It did go well until 20km mark where we came up to Jeremy Jurkiewicz, I tried to drop Jeremy, but ending up dropping Leon & 1km later when we hit a small hill I dropped Jeremy. I could see Petr Vabrousek 1min ahead so I used a few km's to get up to him, and at the 24km mark I caught him and we started working together. We got splits that there was group around 4-6min ahead of us. More >
Brooks Airbrush Studio
,
Cameron Brown
,
Ceepo
,
ceepo bikes
,
CeramicSpeed
,
championship
,
Clayton Fettell
,
Compressport
,
continental tires
,
ContinentalTires
,
DT Swiss
,
DT Swiss wheels
,
Eastlink
,
facebook
,
Funky Trunks
,
Hawaii 2013
,
High5
,
Hypoxico
,
ironman
,
Ironman Melbourne 2013
,
Ironman Melbourne Asia Pacific Championships
,
Jeremy Juliewicz
,
Jimmy Johnsen
,
Joe Gambles
,
kona 2013
,
Leon Griffin
,
Marino Vanhoenacker
,
Melbourne
,
Newton
,
Newton Running
,
Petr Vabrousek
,
Profile Design
,
Prologo
,
Rotor bikes
,
Rudy Project
,
Salt Stick
,
scicon
,
Shimano
,
st. Kilda
,
Thomas Lowe
,
Tri11
,
triathlon
,
Tyler Butterfield


PRESS RELEASE
Funky Trunks, Australia's leading chlorine resistant swimwear brand, is excited to announce their new partnership with two-time Ironman Champion Jimmy Johnsen.
It was a partnership that was meant to be with Jimmy eager to work with an Australian brand that produces world-class products.
'Australia is my new adopted home and I hope to help demonstrate the comfort and superior construction of the Funky Trunks range throughout the triathlon community worldwide. It's great being bright and bold to stand out from the crowd.'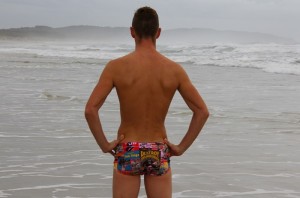 Funky Trunks produces chlorine resistant swimwear that is perfect for the hours of training spent by an athlete like Jimmy in the water. The exclusive Italian fabric and quality construction of each Funky Trunks product provides excellent shape and colour retention throughout prolonged exposure to chlorine and the sun.
Managing Director of Funky Trunks, Duncan McLean believes Johnsen will be a great ambassador for Funky Trunks. 'We are really excited to have Jimmy join the Funky Trunks family. Like the origins of the Funky Trunks business, Jimmy's journey into triathlon certainly wasn't conventional but is proving to be extremely successful. He's a dedicated, determined athlete and he looks great in Funky Trunks!'
Funky Trunks is looking forward to helping Jimmy achieve his goals in 2013 and decking him out in the bright new Funky Trunks range now available.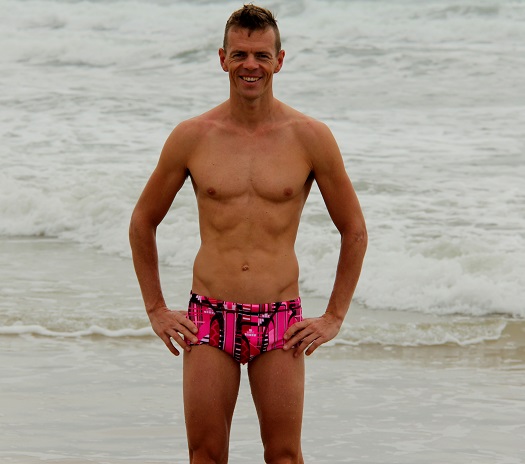 Check out Funky Trunks website: Here

Ironman Champion Jimmy Johnsen joins the Rudy Project Family
Rudy Project is pleased to announce two time Ironman Champion Jimmy Johnsen will exclusively wear Rudy Project bicycle helmets & eye wear in 2013.
Jimmy is a world class triathlete who has been a pro triathlete since 2008. He is one of the most successful triathletes Denmark and Scandinavia has ever produced. In recent years he has moved his home base to Australia with his Australian fiancé.
Known as a gutsy triathlete with a true fighting spirit, Jimmy has an impressive record over Ironman distance. From his 16 pro Ironman finishes, he has been on the podium eight times, including two wins, another seven times finishing in the Top10 and the only race he's placed outside the top10 was his first attempt at the Ironman World Championships at Kona in 2007 where he placed 25th.
Jimmy has already chalked up two Ironman distance titles and three half Ironman (70.3) wins in his relatively short but successful professional career.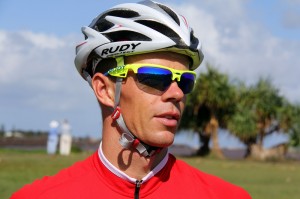 Having been to Kona twice already, Jimmy is set to make his return in 2013. After a strong end to 2012 that saw him take on two Ironman's in two weeks and giving him his second Ironman Title at Ironman Western Australia in December, Jimmy began 2013 ranked 9th on the Kona Points Ranking. Most impressively he currently the highest ranked athlete not to have competed at Kona in 2012 and to have validated their Ironman race.
Fast growing as one of the best marathon runners in Ironman consistently running under 3 hours for the marathon,
Jimmy is looking forward to a big year representing Rudy Project
"I am really excited about the partnership with Rudy Project. The Kona count speaks for itself, the products are seriously impressive and I'm really looking forward to working with Rudy Project in the future."
"Being given the opportunity to work with a great brand gives me real confidence. My race day Helmet will be the Wingpan which is considered the most aero dynamic helmet on the market. I am even more excited for the release for the Wingspan 2 later this year."
Thomas J. Vonach, Rudy Project´s global sponsorship manager for triathlon expresses his excitement about the newly sealed collaboration, "Jimmy is a truly gifted athlete and has shown in his short pro-career that he is a man to watch out for and born champion. We are pleased to welcome him in our family and add another amazing athlete to our strong group of pro-athletes in triathlon!"
Rudy Project collaborates with thousands of other renowned athletes, organisations and teams, including world class triathletes like the reigning Ironman® World Champion Pete Jacobs, Andy Potts, Timo Bracht, Tim O´Donnell, Yvonne van Vlerken, Melissa Hausschildt, Rebekah Keat and many more…
Founded in 1985 in Treviso, Italy, Rudy Project is a major international player in over 60 countries, specialised in the manufacturing of sports glasses, masks and helmets. By selecting the most advanced materials and cutting-edge technologies, Rudy Project creates products of pure excellence, designed to improve athletes' performance. Rudy Project is currently the brand chosen by thousands of world-class and Olympic athletes in cycling, triathlon, cross-country skiing, golf, inline skating and sailing, to mention just a few.
Rudy Project products are designed to give all-round comfort, unbeatable performance and a "technically cool" style.
More on Rudy Project: www.rudyproject.com
Jimmy's next race and first for 2013 will be Urban Hotel Group Ironman Melbourne, the Asia Pacific Championship on March 24th in Melbourne Australia.
Follow Jimmy's Road to Kona at www.jimmyjohnsen.com 
Facebook: @JimmyJohnsenTri
Twitter: @jimmy_johnsen