Challenge Copenhagen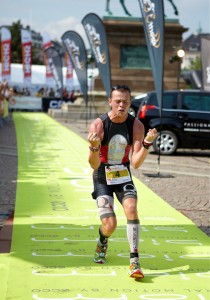 Now that I have had a few days to wind down and take in everything from my race week at Copenhagen, I thought I would share with you my race report.
I drove to Copenhagen on Thursday morning to be at the press conference for Challenge Copenhagen. After that it was time for a massage and physio, so I could be ready for the race on Sunday. As usual the last two days involved very light training and a lot of relaxing and eating!
Like so often, the Danish summer was not too warm and a lot of rain. On Saturday I managed to check in my bike before the heavy rain storm began. With all the rain, I prepared myself that the course was going to wet one and the chance of punches was a lot greater.
On Sunday morning I woke up feeling great and ready to race
During the swim, I positioned myself in the second pack and was happy with this as I did not want to push it too hard. I came out of the water with the second group and found myself in 13th position. I was pretty satisfied being in this position because I know I was sitting with the right guys.
With the wet roads the famous Danish Flinstones became a major factor in the race, which saw me have my first flat tyre at the 15km mark. As I had to stop and change my tyre, it caused me loose the group. Back on the bike and after another 10km I got passed by my coach Michael Kruger and I decided to follow his pace and try to catch back up to the group.

Unfortunately I could only stay with him until 70km where I got another flat tyre. I changed my last spare tyre and from there on I was on my own. The rest of the bike I was hoping not get any more flats, as I had no more spares. For the remainder of the bike, I felt things were going good as parts of the course had now dried out. Then with 300m to go to T2, I got my third flat and had to ride in with a flat front tyre.
Out of transition I was in 17th position and I knew I had to do something special if I was to move up into the top 10. I started out harder than I normally would, running at 4min pace, but I was feeling really good. On the first of the 3 lap run course, I had already caught a few runners who were either running at a slower pace or about to drop out. I knew I could not drop my pace as I had Aleksandar Sorensen-Markovic 2 minutes behind me and running well.
On the second lap I had moved into the top 10 and was still running well. The crowd was right behind me which helped a lot!
It started to get really interesting on the third lap as some people had gone out too hard at the start and were starting to really struggle. I managed to catch Luke Dragsta with 10km to go. At the last turn around point, with 4km to go, I was only 24 seconds behind my coach Michael Kruger and knew I had it in me to catch him. It only took me 1km to pass him and as I was he told me that Bo Ballegaard was only 20 sec in front. He was now in my sights and with 3km to go I felt confident I could pass him as well. I knew I had to keep a fast pace if I was going to catch him and pass him, so with 3.39 pace I caught him and I was hoping he would not be able to follow me. But he did not make it easy and he found the extra speed to stay with me. It was only on the third attempt, I got enough speed to loose him. I kept running fast until the last 200m when I was sure he was not behind me. It also meant I could enjoy the last few meters to the finishing line in front of my home crowd.
I came over the finish line in 6th place, which I was extremely happy with. After the 3 flats on the bike I wasn't sure I would be able to get close to the top 10. After the race, I found out I had set the fastest run time of the day with 2:43:49. This is a new PB for me. I don't know if it was the new Newton runners or the quad and calf Compressport tubes, but I feel both made the difference and allowed me to run at such a fast pace the whole marathon.
Overall I'm really happy I decided to do the race. I'm really impressed with the organisers from Challenge Copenhagen who in the premier event, put on an awesome show.
One of the funny stories they shared with us afterwards was that during Saturday night, the rain was so heavy that T1 was destroyed and they had to rescue aero helmets that were floating around like small ships. Working around the clock, they managed to get everything back up and organised so when we arrived Sunday morning, there was no evidence of what had happened during the night.
There was an estimated 125,000 spectators who came out to support the athletes. It is so good to see that the people of Copenhagen are behind the event especially since it is such a long day for spectators.
Can't wait for Round 2 next year!
Find the cake and cookies – it's holiday time!