Challenge Wanaka 2012
It's nice to have my first race of the year under the belt already and even nicer that I got a decent result. Considering the preparation and training in the lead up, I am very happy to come away with a 5th placing.
In the last few months there has been some major changes in my setup and unlike most previous years, I spent November and December in Denmark attempting to train in the dark winter conditions which meant I wasn't completely sure how things would go. I also had my first few rides on my new Argon 18 E-118 bike which always takes some time to adjust.
After arriving back in Australia at the end of December I did have a couple of weeks of good training before I headed over to NZ.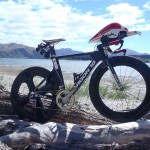 We were very fortunate that Vics and the crew from Challenge Wanaka organised Aimee and I to stay at Edgewater Rresort in Wanaka for the week. And this resort is seriously amazing, with a view of Lake Wanaka from our room and under 100m walk to the lake and running trail, our room has amazing facilities making it the perfect place to stay. A big thank you to Leigh and the gang from Edgewater who looked after us all week, definitely helps in the build up.
With Challenge Wanaka being the first event in the Challenge Series for the year, it's always exciting to start off with such a great event. Many other athletes have found out just how great it is and the fields each year are getting stronger and bigger.
Race day always comes with an early start and after last years race, I was hoping the wind would be minimal however as soon as I left the resort I knew it was going to be a longer day at the office!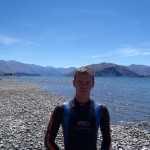 I had a really good swim start getting on the feet of Jamie Whyte straightaway. On the way out to first buoy, I could see that
Kieran Doe and Brian Rhodes were already way out in front.
I lost Jamie's feet after about 2.5km in the rough sea and by the time I got ground under my feet again I had lost 1:20min to Jamie, while Kieran and Brian were more than 5mins in front.
The first 30km on the bike is a small out and back loop, a big part of it in shadow, so my cycling jersey and arm warmers came in handy in the chilly 12 degrees. But myquads were still pretty cold so generating power was difficult. Keegan Williams came up to me after 30km and we started chasing down Courtney Ogden that was around 1 min ahead. Keegan had great legs, so I just tried to keep up with him using a slightly higher heart hate than planned.

We caught up with Courtney at about 70km and remained at the same pace. I started struggling at around 100km and 10km later both had broken from me. With the last 70km in head wind (which was not so bad as last year) I knew I was going to lose some time to the guys in front, but I also know how strong I can run off the bike so I wanted to conserve some energy.
During the ride back, I found Brian Rhodes on the side of the road with his third flat for the day. Knowing what that feels like, I didn't want his day to end like that, so I stopped and gave him my spare Continental tire and Co2. I had packed 2 spares so I was still covered if I also blew one.
In the end he had to pull the pin and passed me in the tech support car. I later found out the valve was to long for his wheel.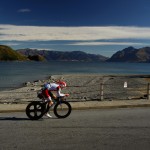 Well, back in Wanaka town center at T2, I changed into my Newton Racer shoes and hit the 2×21.1km loop run course, where 70% is on loose surfaces with a few good hills. I did start out in 4:15 min per km pace, which I hoped I would be able to keep too the entire way.
It just around the halfway point where you have the chance to see where you are to the other athletes. I did have around one min up to Courtney in 4th place with Petr Vabrousek and Scott Defilippis not far behind me.
As we went through the km's on the second lap, it did not look like Courtney was running out of speed. I had enough problems with keeping my own speed and was struggling so much that on some of the hills I was walking 5-10 step before I yelled at myself "pull you self together and start running again"!
And from there it did not get any better, and in the last 30min I start get getting tingles and numbness in my fingertips and 10min later I also started it to get in my face. I knew I needed to get fluid in quickly, so at the last two aid stations I walked though it to be sure I got as much down as possible. I managed to finish in 5th place only 23sec after Courtney.
The next 3 hours I was in the medical tent before I felt well enough get up and walk around!
Once again it has been a pleasure to be in Wanaka. Vics and her team from Challenge know how to make a really great event. Even though the weather is not always the best, it is always an amazing day. And a huge thank you must go to the volunteers that stood out there all day in the cold and heat and not least the wind, without you we are nothing.
Also to my sponsors and supporters without you this life would be impossible!
Back in Australia and my holiday is already over; with only around 2 weeks until the next race at 2.80.20 Geelong. Then the big build up begins to Challenge Cairns in June.
No comments yet.
No trackbacks yet.

about 3 years ago - No comments
I know it's been a while that I have been MIA but now that we have well and truly arrived into 2015 I thought it would be a good idea to sit down and give everyone an update on what has been happening since Ironman Cairns last year (June) which was the last time I…