Race Report: Ironman Western Australia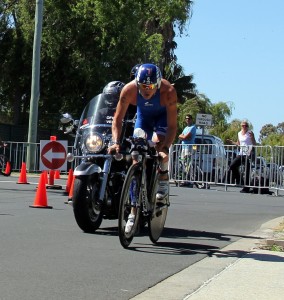 It is always special to go into an Ironman no matter what the build up, but at the end of the day it nothing else matters except how you feel on race day. I felt I had recovered really well from Ironman Cozumel which was only two weeks ago. I knew this race could go either way, but based on my history of backing up pretty well, I was confident it could go really well.
At the start of the week I made sure I got all the right treatment and arriving late Thursday afternoon in Busselton gave me time at home to recover and prepare right. I am quite familiar with the area having raced Ironman Western Australia three times before so coming later in the week was fine.
Race Day
SWIM
We had an early start with a 5.30am swim start but coming from the east coast of Australia with a three hour time difference, getting up so early wasn't that tough.
We had a beach start & when the gun went off, I had a great start and got on the feet of Horst Reichel but only managed to stay there for 500m. I led the chase pack out around the jetty before I settled into second spot to try and save some energy.
I had a great transition and came out on to the bike course in second place with a group including Timo Bracht, Josh Rix and Matty White.
BIKE
The course is 3 laps and there was a fair bit of wind. By the start of the second lap our front pack got caught by Simone Billeau & Mitch Anderson. When we hit half way mark and came up to collect our special needs I had to come to a complete stop to get my things. I had a good 10minutes in the red zone getting back up to the group and when I caught up again they had been pushing the pace off the front and had joined Horst Reichel who had been leading.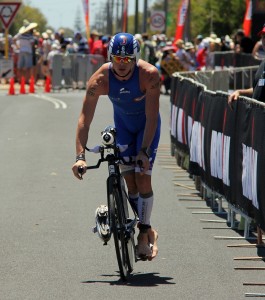 By the end of the final lap, Mitch Anderson and Josh Rix had gone off the front of the group but I stayed with the Matty White & Horst Reichel as I knew I could run down the two out in front.
I made the decision to stay with the pack as I knew I had to be careful not to go too hard on the bike and conserve energy to have a great run. This decision definitely paid off.
RUN
I started the run in 5th place with 4 minutes up to the leader and with a four lap run course it was easy to keep on top of where I was at. I didn't go too hard on the first lap and by the end of the lap Matty White had taken the lead with Reichel in second and I was now in third place only 1.40min down. The next one and a half laps I started to doubt my decision to do this race as I felt like I was fading. But by the turn around point, even though I was not going so fast, I had gained time and was now only 1 minute down. So suddenly I was feeling fresh again and it was game on to get the win. Just before the start of the fourth lap I was running 4.15 pace and when I passed Matty White to take the lead I put the hammer down and dropped down to 4min/km to make sure there was no chance he could follow. I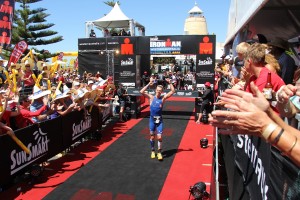 stayed on 4-4.05 pace for the next 6kms to make sure my lead was secure; I did not want a sprint finish!
With 6kms to go was the first time I thought I had the win as I passed Aimee & told her to get to the finish line! Out the last turn around point I had kept a solid pace and had extended my lead to around 4minutes to Horst Reichel who was now in second place. I only had 3.5km to the finish line but I was paranoid I kept pushing the pace until the last 500m when I started to celebrate.
When I hit the finish chute I wanted to enjoy every second and was getting high 5′s and cheers from the crowd before I walked crossed the line as 2012 Ironman Western Australia Champion in 8.29.06. It's great to be on top of the podium again since the last one was in 2010. Funnily enough when I won my first ironman distance race at Challenge Barcelona Horst came second that day also!
Many people doubted my decision to race Busso after Cozumel, not believing I could back up and have a good race. I knew based on previous results I could not only back it up but I could win. When I won at Challenge Barcelona I had raced a half ironman, a double Olympic and then the ironman in three weeks. My form was good and I thought I was definitely going to be in the mix.
I would like to thank my fiancée Aimee for all her support. She looks after everything from cooking me awesome food and cleaning my stinky training clothes to managing my career, so all I have to worry about it training and racing. I couldn't do this without her.
My sponsors who have supported me through the year. Without you all it would be impossible to to do this. You've all helped me achieve my goals this season and am very proud to pay it back with this victory, so thank you.
Argon18, Skinfit, Compressport, Tri11, Prologo, Spiuk, Newton, Shimano, Salt Stick, Sci'Con, Hypoxico, Continental Tires, Ceramic Speed, High5, XOSIZE, EFX & The Challenge Family.
My coach Grant Giles for finding the key to my fitness and speedwork. Thank you for the support this year. The Aeromax Team at Lennox Head for pushing me every single day. Looking forward to a big summer!
Thank you and congratulations to Geoff and the team at USM Events for putting on another fantastic event.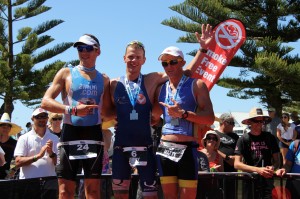 No trackbacks yet.

about 3 years ago - No comments
I know it's been a while that I have been MIA but now that we have well and truly arrived into 2015 I thought it would be a good idea to sit down and give everyone an update on what has been happening since Ironman Cairns last year (June) which was the last time I…