Race Report: SunSmart Ironman 70.3 Busselton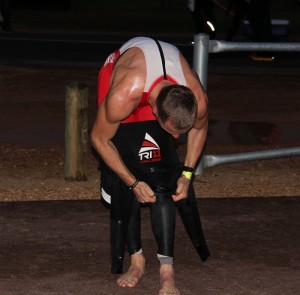 After the Koh Samui race, I had to take some more time off than originally planned as I just wasn't recovering as fast as I normally do. This meant that up to Busso 70.3 I did no speed work at all. Another reason for a bit longer break is that I want to be mentally fresh when I hit the last few months of the year, when there a few big races are on I need to be ready for.
We arrived in Busselton on Thursday just after midday & on that night I had a Q&A session with some of the other pro's at The Fat Duck Cafe, a bike shop anyone who has visited Busso before would know.
Friday was also a packed day for us pro's starting out with a charity breakfast for "the center for Cerebral Palsy" & afterward we had the usual press conference. I had some time to do a bit of training before the afternoon schedule which included race briefing, bike check-in & then giving out finisher medals at SunSmart kids triathlon.
Race morning we where lucky with the weather, as it was not raining like it have done the other days.
I didn't have a good start as I was struggling to swim in a straight line the first 400m & lost contact to the group in front of me. Not having much of a warm up affected me and was pretty dizzy to start with. Once I got going I actually felt that I was swimming well, it was for sure much better than what I did at Koh Samui.
Onto the bike I so happy, because I'm back again riding with a powermeter, it is 3D+ Rotor crank with the new Rotor QXL Q-rings, and I did feel it was going well with pushing from 300-320watts, on the first of two laps.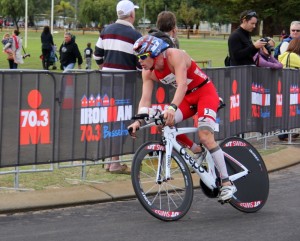 But the guys up in front was still going a bit faster, was able to keep the power up the whole way, ending up with 288 watts in average.
Normally when I'm coming off the bike, I'm a little off the front, which was also the case here. But unlike an Ironman, I "only" had 21.1km to try run them down. I tried to find some speed but when running at 3:40mins pace you do not catch many over 21km! I also found I was little out of energy the last 3km. So overall not my usual run but the lack of speed work don before it wasn't completely surprising.
I came over the finish line in 14th place, which was a bit off where I had hoped for.
With a former Olympian and a lot of talented young short course guys in the field there was no hiding;You pay the price for not doing any speed work!
Well there is 70.3 Cairns in 4 weeks, so I better get some speed work in before that.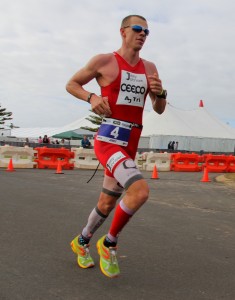 Thanks to all the volunteers & spectator for cheering on me even that I was way off the front. And a big thanks to Triathlon WA, Ash and Haley in particular, for putting this great event on & also looking after me all weekend.
The plan is to come back in December to defend my Ironman title & by that time I will try to be much more fit

Congrats to Brad Kahlefeld for taking the win, with a smoking run time – very impressive.
No comments yet.
No trackbacks yet.

about 3 years ago - No comments
I know it's been a while that I have been MIA but now that we have well and truly arrived into 2015 I thought it would be a good idea to sit down and give everyone an update on what has been happening since Ironman Cairns last year (June) which was the last time I…