Posts tagged
CSKona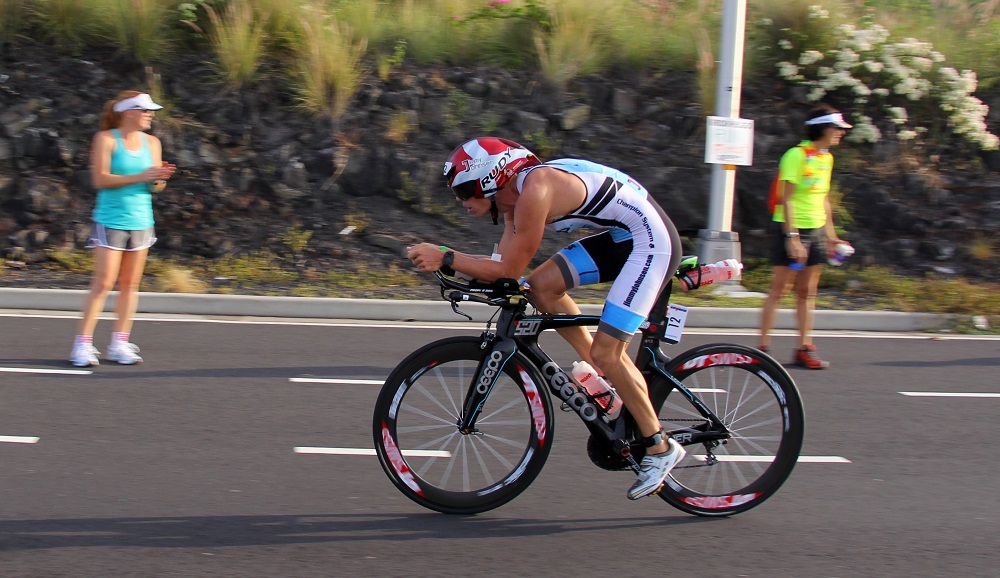 I have now had a few days to think about the race I did on Saturday & am starting feel like a normal person again.
There is always a big build up to this race & a few more sponsor commitments than normal, but we had planned it out so I could do it all in one day & I did not have to run around in the Expo all the days up to the race.
I wasn't as nervous as I normally am, which I think was because Mat & I had talked about tactics a long time before the race. One of the key things was that I was going to do my own race & not try to get up to the front pack, especially because I only had 8 weeks of training because of injuries, there was not the biggest base to build from. Mat & I had done a lot of work on my position and I knew I could do a solid effort on the bike even with limited buildup.
Race morning came around & as we where staying so close to the pier, I could jog down there. Everything takes a bit long because the security is much higher & The Pier (Transition) is not that big when there is over 2000 athletes racing. So my normal pre-race stress was there with me getting into my speed suit 15min before the gun went off!

I did know that I was swimming well up to the race, I had done a few session with Liz Blatchford and was able to keep up! I positioned myself just behind Craig Alexander at the start line & came away with a really good start no fighting or feet in the head which is always a bonus!
I tried not to go all out from start and each time a small gap opened up I was able to close it. At the turnaround point I was still with the front pack and it was first with about 800m to go that I could not keep up with the pack & ending up doing the rest on my own. I was too stressed as I was a good way in front of the second pack.
Out on the bike I was only 2min down on the front (in 2007 & 2009 I was 3½-4min down) I was on my own the whole city part off the course & on top of Palani Rd Sabastian Kienle came up to me & shortly after Jordan Rapp.I didn't try to go with them because I knew I wouldn't be able to stay with them for very long.
After the airport Andreas Raelert & TJ Tollakson came past & I stayed with them for a while before I was slightly dropped. Just before the climb to Hawi, a big group formed and we stayed together all the way up. This is when I started to struggle. My stomach didn't like the PowerBar Perform drink that we were given out on the course. The group got split up on the way down and I started throwing up a lot. Down from Hawi I went on Coke instead of Perform & started to get some energy back into the system and just tried to keep a steady pace back to Kona. But I did feel that I had lost a lot of energy being sick and not being able to get energy in. I don't normally drink Perform, so better try to train on it next time before the race.
Although I was fare way down in the start of the run, I always give it a good crack on the run. I started out running in around 4min pr/km on Ali'i Dr & thought I would see how long I could stay at this pace & even going up Palani rd I was feeling fine. After 13 mile out onto the Queen K all the spectators got held back & it got much more quiet, over the miles I slowly past a few athletes.
Down in Energy lab athletes was starting to struggling like Dirk Bockel, Pete Jacobs & Luke Bell were all walking, and I moved up three more places up. Up back on Queen K I had Daniel Halksworth & Per Bittner in front of me & over the last 10km I had to fight a bit to get both of them. On top off Palani Rd I had 52sec to Daniel, but did let the legs give free run down off Palani, because I do not want to end up doing a sprint finish. I did ending up getting a bigger gap, so I could enjoy the last few meters before crossing the finish line in 23rd spot.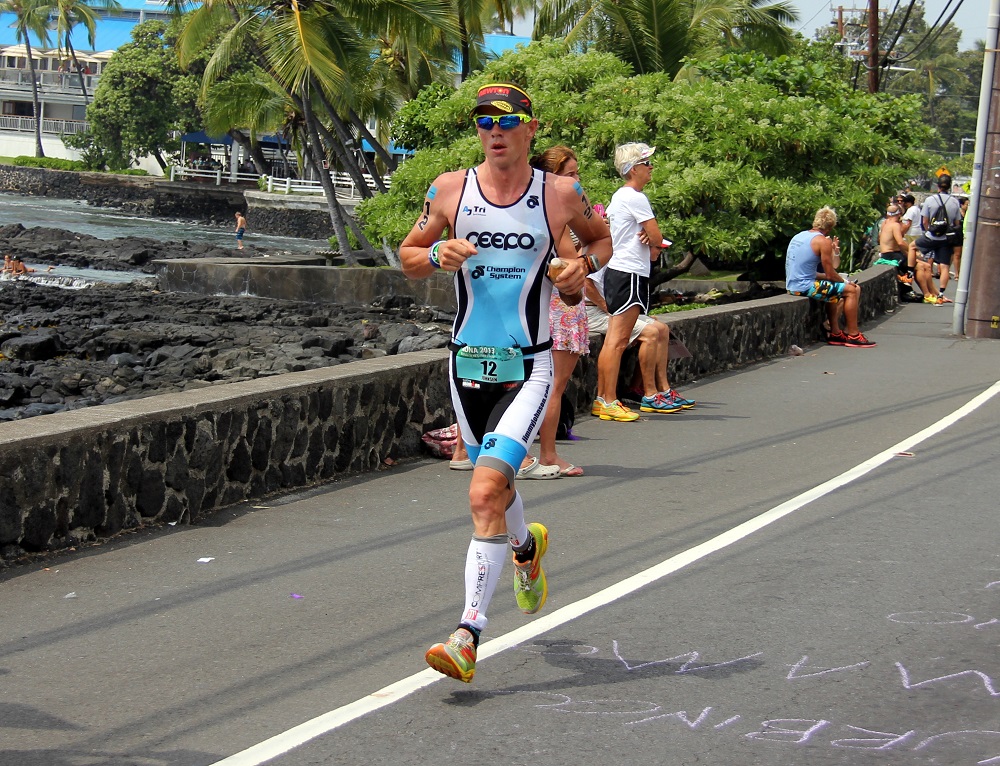 Happy with the day?
It was not the result I came for, but as far as the day turned out I was okay with it. I can take some real positives and look to build on them over the next 12 months. The disappointing part is that I was in such a good position until I got sick, so who knows what might have happened, but no point dwelling on it. What's done is done, and I can look forward to coming back next year.
My swim was much better than expected & with only 1½min off the back of the front pack is a big improvement to when I was here in 2007 & 2009 where I was at the back of the second pack. Considering my swim training over the last few months, I am really happy with this.
I did feel my biking was going well. We changed my bike setup only 6 weeks ago from a very bad aero position to one that is way more aero and comfortable. It is always going to take time to get used to a new set up. I know on paper my bike time is very slow, but before I started being sick I felt so strong and was right where I needed to be.
Running. That did go much better that expected as well. Although the run is my strength, I have had some major issues since Ironman Melbourne. I was a bit sore around my right hip flex before that race and after, but kept running on it. In May when it still hadn't got better, I got an MRI and found out I had Osteitis Pubis which is an inflammation of the pelvis and pubic bone. I needed to get some serious treatment before I could get back running again, so I didn't run properly again until the end of August when we got to Boulder.
In my build up for this race, I did only have 2 run sessions over 2 hours and have been doing around 5 hours a week running. So for me to still be able to run 2.56 on Saturday was a real surprise. I was worried I would hurt it again as it can be an ongoing injury but I'm feeling fine so I will have a check up when I get home to Australia and all should be fine to defend my title at Ironman WA.
Result list
I would like to thanks all my sponsors there did help me get here without you I would not have had a chance just to get here on the start line.
Tri11 wetsuit, Ceepo, Profile Design, DT Swiss, Ceramicspeed, Scicon, Rotor, Rudy Project, High5, Brooks Airbrush Studio, Funky Trunks, Continental, Saltstick, Hypoxico, Newton, Shimano AUS, Compressport AUS, ISM Saddles & the last one Champion System Clothing that only got on board just three weeks before the big race. They got me a custom kit in 2 weeks and loved wearing it race day.
A big thank you to my new coach Mat Steinmetz for working under tough conditions to get me up and ready for this race. Looking forward to the next stage of my career working with you!
Check out my Hawaii photo gallery here
Brooks Airbrush Studio
,
Ceepo
,
Cemicspeed
,
CeramicSpeed
,
Champion system clothing
,
Compressport
,
continental tires
,
CS2013
,
CSKona
,
Denmark
,
DT Swiss wheels
,
facebook
,
Funky Trunks
,
GoPro IRONMAN World Championship
,
Hawaii 2013
,
High5
,
Hypoxico
,
ironman
,
ironman champion
,
Ironman Hawaii 2013
,
Ironman Melbourne 2013
,
Ironman Melbourne Asia Pacific Championships
,
ISM Saddles
,
Jimmy Johnsen
,
kona 2013
,
Newton
,
Newton Running
,
oz
,
Profile Design
,
Rotor
,
Rudy Project
,
Saltstick
,
scicon
,
Shimano
,
Tri11
,
triathlon
,
Twitter