Posts tagged
Dirk Bockel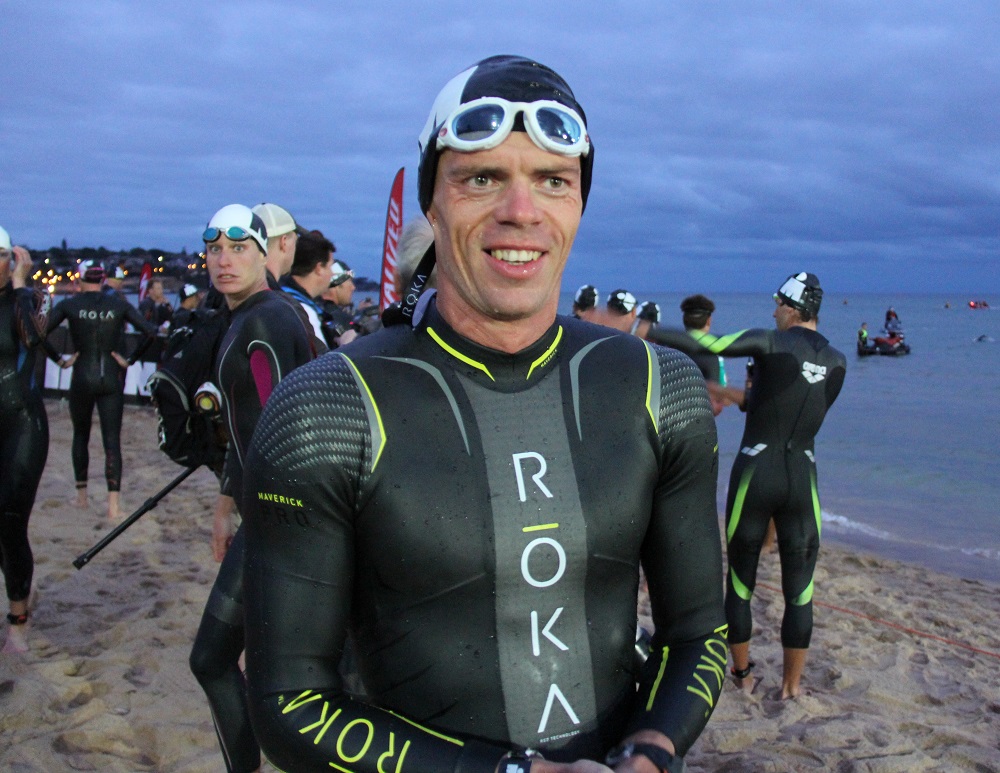 I had a good build up & finally got on top of my hip injury that I has been bothering me since just before this race last year.
Up to big races I like to sleep in my high altitude tent if it's possible, as in the past when I have, my performances has been very good. And with Ironman Melbourne being a very important race for me, I was happy to sleep in the tent even thought it did mean that I could not sleep next to Aimee. I hoped that a good result would make up for it.
The last few weeks up to the race I felt that I was in a good shape and looked set for a good result even though the field was well packed with good names!
On race morning I was looking forward to swim, because it was my first race in my new Roka wetsuit, especially because in the week up to the race I had done 400m swim in 4:44min with is a good time for me!
This year the weather was much better for an open water swim than last so that was a good star to the morning. I did have an okay start if we look away from the fact that I lost my Garmin watch after 100m. But I was with the front group out to first bouy (850m) where Luke McKenzice & I got dropped, I was hoping that a few others would also get dropped, but it did not happen that way. The rest of the swim we where on our own, but the front group did not look to fare away. But out of the water I saw we were 4min from the front, but with another chase group just 2mins in front of us. I was a little bit disappointed with my swim time of 49:46 – not the start I was looking for. More >
Ceepo
,
CeramicSpeed
,
Compressport
,
compressport AUS
,
continental tires
,
Denmark
,
Dirk Bockel
,
DT Swiss wheels
,
facebook
,
Grand Prix 4000 S
,
Hypoxico
,
ironman
,
ironman champion
,
Ironman Melbourne 2013
,
Ironman Melbourne Asia Pacific Championships
,
Ironman western Australia 2012
,
Jimmy Johnsen
,
Melbourne
,
Newton
,
Newton Running
,
Profile Design
,
Rudy Project
,
scicon
,
triathlon
,
Twitter

1770 athletes
45.000 spectators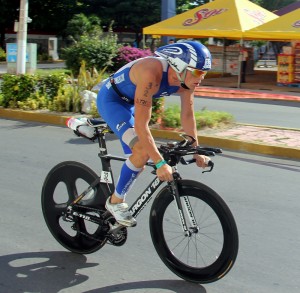 After 70.3 Mandurah I had a good training block where we, my Coach Grant and I, worked hard on regaining my bike speed as it seems that I only had one speed & we also dropped the volume meaning every session was tough & no easy bike days! We were doing motor pacing 2 times a week for the last 3 weeks. The first week was tough, second week I seemed to be flying but my last week in Australia it definitely wasn't easy!
We arrived in Cozumel Monday night after two long days of travelling and 5 flights later, but it give me plenty of time to get use to the new time zone & colder weather. The temperature was only 24 degrees & a little bit more rain than we had back in September.
It was only Wednesday where it did not go after the plan. I did bike before breakfast & it went fine, but at breakfast I did eat something that my stomach did not like, so I spent the rest of the day in bed or on the toilet, but I tired to keep really hydrated & next day I was fine again.
As normal I locked down the last few days before the race to get in the zone, so did only eat, sleep and train. And hope for a race day with no rain.
Race morning there was no chance of rain and a nice starting temperature at 19 degrees. The first thing I did in transition was fix my back wheel, because when I checked the bike in on Saturday it was going against the frame. After that it was back to the normal preparation.
We started at 6:40am with a big pro field of 60 plus male athletes. I had an okay start without to many fights and did settle in the second group, but with 500m to go I start getting dropped so I ended up being 10-15 sec behind the group out of the water.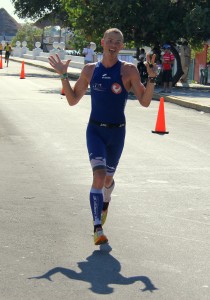 In T1 it did go well, but was one of the last out of transition, with another small group 30 sec up the road. I tried to close the gap but after almost one hour above IM pace I fell back to a group 25 sec behind me, with Michael Lavato as the big power man.
The bike course was 3 laps & after first lap there came a TO up behind me for 3mins & look at the group, which ended up that two of them got 5mins for drafting. Just at the end of second lap we came up to the group I had tried to catch in the start of the bike. But at 130km mark I had a little bit of low & lost the group, the wind had also picked up and being on the other side of the island there was a good strong head wind making things extra tough. I also found out that the course is 1.5km too long.
T2 was fast in & out. The run course was 3 laps & I was only around 8mins down to the front so in between me & the front was there 11 people to run down. Most of the time it's on the marathon that people hit the wall, so on the first lap I did only overtake a few. Second lap was much better, I was still only 8-9mins behind the front but did overtake Dirk Bockel & Luke McKenzise both having stomach problems, while others had problems with the heat.
Last lap I tried to push it a little bit harder out to the turn around point & did overtake James Cunnama & Brandon Mash. The last 4km's I started to be in struggle town where my km split drop by 10-15sec, so I dropped a few bad Danish worlds to keep me going. I crossed the finish line in 8:29 & in 5th place with Brandon only one minute back.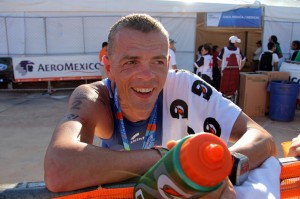 Ivan Rana won & set a new course record with Bas Diederin & Bert Jammaer finishing out the podium.
Now I just have to recover very fast while we get back to Australia, because there may be a race coming up very soon