Posts tagged
Salt Stick

I came into this race with a long build up where all my life existed of was training, eating & sleeping in my Hypoxico Altitude Tent. I know from past experiences that altitude training works well for me special on my run form, so it was a simple choice to spend the 8 weeks prep sleeping in the tent.
With Ironman Melbourne being a championship race it was always going to bring some of the best athletes in the world, so for me it was a good test to see where I'm standing. It is well known that not everyone is at 100% because it is at the start of the year & I was one of them.
The last few days before the race I was not as nervous as I normally am, maybe because I could sleep in my own bed & I did not have to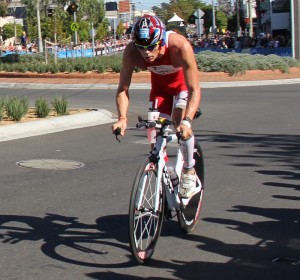 go and eat out.
There was a bit of panic at the end of the week when I got a bit stiff in my lower back. I was lucky to get into a see a physio on Saturday morning & he did save my race for sure.
With Melbourne weather it does change a fair bit, it is known for having 4 seasons in a day. I was prepared for anything and on Saturday at race briefing the organisation advised us the swim had been changed to a two lap swim & did also have a backup plan if the winds didn't drop that we would still have a swim but a shortened one. All athletes were aware this could be a possibility, but that is racing.
I did a test swim Saturday afternoon to get an idea of how bad it was which went ok but was definately rough. Waking up race day to howling winds I was sure we'd have have a shortened swim and just after my warm up we got told that the swim was cut down to 1.9km. & a delayed start. I took my chance to a small nap!!
But like Marino Vanhoenacker did say at least we did get a swim, it's not ideal to swim 1.9 but it was the right call. I think all athletes after the race agreed on that.
I did not have the best swim start, but did stay in contact with the 2nd group the whole swim, even though it was very rough. I came out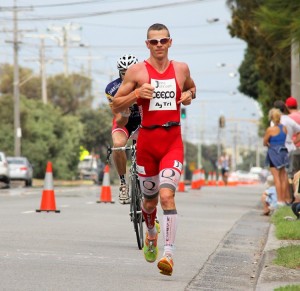 onto the bike with the group, but as soon as Cameron Brown, Joe Gambles & Marino hit the front, the group started splitting up. Thanks to the massive headwind I was only doing 30-35km/h, but quickly found my own pace; With a two lap course there would still be 45km into headwind on second lap as well so didn't want to be on empty for that. We did have a good tailwind back which was a great relief and I was able to sit on 47-58km/h the way back into Frankston.
At the start of the second lap quite a few athletes start dropping out because they had gone out too hard out, so I just tried to limit my loss to the front and prepare for a big run.
When I hit the run I was in 17th place, well down on where I had hoped for, but with 42.2km's in side/headwind I knew a lot could happen and the weaker runners would be found out. Leon Griffin & I did work well together on the start of the run and were sitting on 3:50-4:00 pace, so it was just a matter of time before we would start to catch athletes up in front. It did go well until 20km mark where we came up to Jeremy Jurkiewicz, I tried to drop Jeremy, but ending up dropping Leon & 1km later when we hit a small hill I dropped Jeremy. I could see Petr Vabrousek 1min ahead so I used a few km's to get up to him, and at the 24km mark I caught him and we started working together. We got splits that there was group around 4-6min ahead of us. More >
Brooks Airbrush Studio
,
Cameron Brown
,
Ceepo
,
ceepo bikes
,
CeramicSpeed
,
championship
,
Clayton Fettell
,
Compressport
,
continental tires
,
ContinentalTires
,
DT Swiss
,
DT Swiss wheels
,
Eastlink
,
facebook
,
Funky Trunks
,
Hawaii 2013
,
High5
,
Hypoxico
,
ironman
,
Ironman Melbourne 2013
,
Ironman Melbourne Asia Pacific Championships
,
Jeremy Juliewicz
,
Jimmy Johnsen
,
Joe Gambles
,
kona 2013
,
Leon Griffin
,
Marino Vanhoenacker
,
Melbourne
,
Newton
,
Newton Running
,
Petr Vabrousek
,
Profile Design
,
Prologo
,
Rotor bikes
,
Rudy Project
,
Salt Stick
,
scicon
,
Shimano
,
st. Kilda
,
Thomas Lowe
,
Tri11
,
triathlon
,
Tyler Butterfield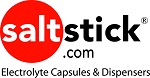 I am excited to announce that in 2012 I will be officially partnering with Salt Stick. I have been using Salt Stick for many years and believe they give me the edge on race day. Unlike some other products Salt Stick is not only easy to get down but gives you the salt boost you need throughout the race without causing me any stomach issues. I do not start a race without them, so I am very happy to be working with Jonathan and the team at Salt Stick in 2012 and beyond.