Posts tagged
World Champion Pete Jacobs

Ironman Champion Jimmy Johnsen joins the Rudy Project Family
Rudy Project is pleased to announce two time Ironman Champion Jimmy Johnsen will exclusively wear Rudy Project bicycle helmets & eye wear in 2013.
Jimmy is a world class triathlete who has been a pro triathlete since 2008. He is one of the most successful triathletes Denmark and Scandinavia has ever produced. In recent years he has moved his home base to Australia with his Australian fiancé.
Known as a gutsy triathlete with a true fighting spirit, Jimmy has an impressive record over Ironman distance. From his 16 pro Ironman finishes, he has been on the podium eight times, including two wins, another seven times finishing in the Top10 and the only race he's placed outside the top10 was his first attempt at the Ironman World Championships at Kona in 2007 where he placed 25th.
Jimmy has already chalked up two Ironman distance titles and three half Ironman (70.3) wins in his relatively short but successful professional career.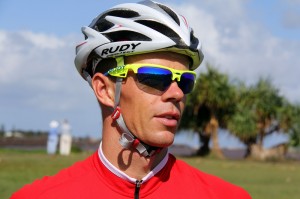 Having been to Kona twice already, Jimmy is set to make his return in 2013. After a strong end to 2012 that saw him take on two Ironman's in two weeks and giving him his second Ironman Title at Ironman Western Australia in December, Jimmy began 2013 ranked 9th on the Kona Points Ranking. Most impressively he currently the highest ranked athlete not to have competed at Kona in 2012 and to have validated their Ironman race.
Fast growing as one of the best marathon runners in Ironman consistently running under 3 hours for the marathon,
Jimmy is looking forward to a big year representing Rudy Project
"I am really excited about the partnership with Rudy Project. The Kona count speaks for itself, the products are seriously impressive and I'm really looking forward to working with Rudy Project in the future."
"Being given the opportunity to work with a great brand gives me real confidence. My race day Helmet will be the Wingpan which is considered the most aero dynamic helmet on the market. I am even more excited for the release for the Wingspan 2 later this year."
Thomas J. Vonach, Rudy Project´s global sponsorship manager for triathlon expresses his excitement about the newly sealed collaboration, "Jimmy is a truly gifted athlete and has shown in his short pro-career that he is a man to watch out for and born champion. We are pleased to welcome him in our family and add another amazing athlete to our strong group of pro-athletes in triathlon!"
Rudy Project collaborates with thousands of other renowned athletes, organisations and teams, including world class triathletes like the reigning Ironman® World Champion Pete Jacobs, Andy Potts, Timo Bracht, Tim O´Donnell, Yvonne van Vlerken, Melissa Hausschildt, Rebekah Keat and many more…
Founded in 1985 in Treviso, Italy, Rudy Project is a major international player in over 60 countries, specialised in the manufacturing of sports glasses, masks and helmets. By selecting the most advanced materials and cutting-edge technologies, Rudy Project creates products of pure excellence, designed to improve athletes' performance. Rudy Project is currently the brand chosen by thousands of world-class and Olympic athletes in cycling, triathlon, cross-country skiing, golf, inline skating and sailing, to mention just a few.
Rudy Project products are designed to give all-round comfort, unbeatable performance and a "technically cool" style.
More on Rudy Project: www.rudyproject.com
Jimmy's next race and first for 2013 will be Urban Hotel Group Ironman Melbourne, the Asia Pacific Championship on March 24th in Melbourne Australia.
Follow Jimmy's Road to Kona at www.jimmyjohnsen.com 
Facebook: @JimmyJohnsenTri
Twitter: @jimmy_johnsen